Tsuki Oct 27, 2021
Will buy more from this store
Verified Purchase
Fit well! The 3th purchased these tall men shoes. I like the discreet way it hides the increase in my height. Is very nice and comfortable for 5'6'' men, driving my car with this sneakers is very good. Thanks and looks amazing the black color is very stylish.

Ezyn Oct 27, 2021
The shoes meet my expectations
Verified Purchase
I found the shoes to be very comfortable and with a nice look to them. In elevator shoe items, they are the absolutly great product. Keep up the good work and providing excellent height boost. I Will purchase again from Chamaripashoes.com..

Nick B. Oct 27, 2021
shoes that make you taller
Verified Purchase
My husband really likes these elevator shoe. he said he feel confidant than before. Amazing shoes, boost men's height. They are exactly fit and comfortable. all and all nice shoes for the money and so far they're holding up.

mdisher Oct 27, 2021
I love them
Verified Purchase
I always felt a little too short at 5'6". I was always hesitant to wear height increasing shoes as I had heard these shoes were uncomfortable. But now I can't leave them.I even wear them all day, so comfortable they are. I look naturally taller.

Donald N. Oct 27, 2021
Helpful
Verified Purchase
These shoes have been great. I got a height boost in expect, these elevator shoes definitely helpful. I was unfortunately cursed with being short and in a relationship with a woman who is taller than me a lot. Now I am glad these shoes help negate the difference a bit just so there are not so many stares going our way. I Will buy this brand again I am sure.

Kara Oct 27, 2021
Good value!
Verified Purchase
These are excellent, delivery arrives at my door in 8 days, amazing. Great fit! the outsole is made in rubber, which is very durable and fits comfortably. Increase men's height at 3.35 inches, unbelievable. These elevator shoes are still comfortable and beautiful.Good value!

Repsand Oct 27, 2021
I enjoy Chamripa shoes
Verified Purchase
Item arrived at my home in time! Excellent. Description of item very helpful. when ordering, choose the size as usual. these high heel shoes for men are fit and secret. And the shoes are light and very comfortable. I really enjoy Chamaripa shoes!

Woodrow D. Oct 27, 2021
Nice Product!
Verified Purchase
Nice Product. The upper is made in mesh, that keeps breathing. Hides the height very well. Look like normal sneaker shoes. The insole and outsole are so soft, break in comfortably. Good quality and first shoe I bought online that fits!

Tony Oct 27, 2021
Recommend
Verified Purchase
I am already tall for my ethnicity but need to be taller for work in an American company. I feel more commanding and credible with these taller shoes. I'm wearing them at work to look more credible as a manager. This is why I bought elevator shoes.

Bill Sep 17, 2021
This is a quality shoe
Verified Purchase
This is a quality shoe. Very well made and fits great. Gonna buy another color and maybe even the dress shoes. I recommend this brand. You won't be disappointed.
Bob B. Sep 17, 2021
Nice shoes
Verified Purchase
The shoes take about a week to get use to and could be a little more comfortable. Although they are great looking and i'm Satisfied with my purchase.
Thu T. Jun 8, 2019
Satisfied with purchase
Verified Purchase
I thought it will be too long to arrive Myanmar but it is very fast than i expected because you are shipping from united states. i wear asian 45 so i order 11 ( US ) size and shoe is barely fit in my feet and i thought i need to order 12 later for future purchase. Overall satisfied with shoe.
Ishmael Apr 27, 2019
I in love with shoes
Verified Purchase
Good product. Received shoe 2 days after purchase. It really is a cool buy! My girlfriend was leaving me for taller man. How do I win her back with purchase! Shoes excellent fit when you buy. I will please recommend if you want to keep your job and wife/girlfriend from leaving it!
Best shoes ever!
Bernardo Apr 3, 2019
Good looking white sneaker,Ortholite Comfort--Great Price
Verified Purchase
I got my white sneakers 2 weeks ago, it works great! I asked to change the color to white, it looks wonderful in white, right?
I suggest Chamaripa offers more color option for their shoes. Love these shoes. Very comfortable and great style.
Can be paired with just about anything, but I mostly wear them with darker jeans.


Eric Mar 30, 2019
excellent service
Verified Purchase
Good product. Satisfied, Hence later on ordered one more pair of size 8 (same size as this product) but the but newly ordered pair of size 8 was too tight hence returned. Received refund of returned pair.
Hope supplies uniform dimension pairs as per size number of shoes so that dimensions don change for the same size.
Adam Mar 30, 2019
Worth buying seeing features
Verified Purchase
Good product at a good price. It is good enough for daily basis use. Only thing i felt the manufacturer could have done is providing a good metal eyelet for shoe lace. It would have lasted longer. Still a good product. otherwise no issue with the product. worth buying considering other features.
Lucas Mar 30, 2019
Raise your height and standard
Verified Purchase
These are basically made to increase your height upto 4 inch. I must say Raise your height and standard by owning this shoes. a must buy for everyone. Good Quality Comfortable For Use....For Run & Walk.Very good product and it's looking like a big brands shoes and this dirt cheap price.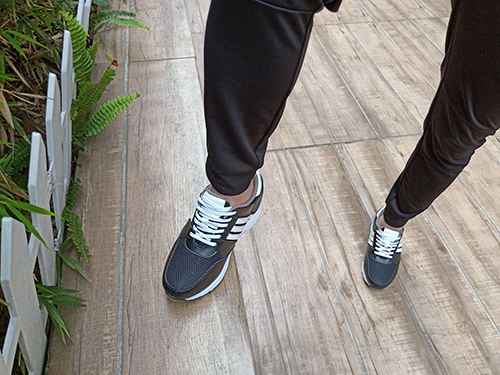 Luis Mar 30, 2019
Best Sole and Terrific Shoes .Really Impressed...
Verified Purchase
Received it Today.. Before two days of estimated delivery date... Extremely happy .best is Sole and Terrific Shoes .Really Impressed...
. I have become fan of their shoe quality for the prices, they charged. Suitable for people of all age group. Strong and Durable.Truly Loved it... Highly recommended to the reader..
Benjamin Mar 30, 2019
review after 1 month use
Verified Purchase
After using for a month I can share my experience honestly
Pros:
1)Quality is superb
2) Looking decent
3) fitting is perfect
4) perfectly matches the picture
5) shoe lace are good
6) best for jogging
7) Value for money
Cons: i find nothing that is worth sharing.
so go for it :)
Oliver Mar 30, 2019
ready for office use
Verified Purchase
Very Comfortable, Nice Shock absorbing Capacity, Happy with the Performance, Very good product it's looking like a big brands shoes. Nice product for this price. Satisfied and using it office casual and find my friends are envy of my choice. just one issue, it would have been better if there was some extra cushion at the heel side. Nevertheless HAPPY.
Karl Mar 30, 2019
Increase height
Verified Purchase
if you want to increase your height, you can wear these shoes. I have bought this shoes surprisingly it increased my height by 3 inch. what a product. Cant believe that one can increase such a height by using just a casual shoes. Definitely worth trying once to see how you look with increase height.
John Mar 30, 2019
Height raising
Verified Purchase
it is raising your height without compromising on comfort level of a person. you gained height by using this shoes and people confused with weather its actual height or raised by wearing shoes. If the upper was a bit softer this would be at par in comfort with other well known brands.
Ryan Mar 30, 2019
quality with comfort
Verified Purchase
I like the outer quality of this shoes but Sole is incredibly very good. When i run on treadmill, my knee and feet are relaxed because of high quality cushion used in the sole. If you want to buy it for normal walking or some rough use then go for it
Jadon Mar 30, 2019
Must buy
Verified Purchase
Been using it for almost 6 months now. Worth the price. Don't expect top brand quality for the price. Not suitable for long distance running but extremely decent for daily usage.
Light weight and flexible! I! Gonna buy another pair for myself. would definitely recommend it to anyone. Must buy. :)
Nathan Mar 30, 2019
Good shoes with cheap price
Verified Purchase
Good shoes with cheap price. They fit as expected with your regular size. The quality of the bottom sole is very good and perfect for a morning walk. Though it has some pros and cons as below
1. Fit as expected
2. Excellent quality material
3. Comfortable for walking
4. Soft cushions and sole quality
5. Looks cool and easy to wear.
Thomas Mar 30, 2019
Super comfort
Verified Purchase
I've been using theses shoes since 3-4 months. Very nice shoes at an affordable price .they are awesome just as show in picture and size even was a perfecf fit. Perfect for regular use,superb colour combination, soft and gentle inner sole graceful. It is Light weight, can be washed too...


Jose Mar 30, 2019
Superb shoe go for it
Verified Purchase
The shoe is good light weight and looks superb I am.happy to get it much less cost than branded ones I use for normal going out may not be suitable for daily walking but overall great in the budget I got for $135 I love this shoe and cost is too low for such a product I use to play for table tennis it simply great I used fir 1 year still it is in good condition.
Robert Mar 30, 2019
Durable and comfortable
Verified Purchase
I would say it is a fantastic shoe and fits perfectly. I'm walking around 8 km every day using this shoe. Till date there is nothing to complain against. Great shoes at great price. Bought one before used it for around 2 years. Buying another hoping to use for another 2 years or so.
Caleb Mar 30, 2019
Seems okie at this price
Verified Purchase
Shoe is not so nice. But any how ok with price. It gives height advantage but i dont have any height issue, so the product doesnt suit me. If u r short, then it will look good on you. and If u want to expect a superior quality then spend more money n buy good branded rather then this.
Kevin Mar 30, 2019
Nice Packing. On time Delivery.
Verified Purchase
Nice Packing. On time Delivery.
I ordered 9 size shoe but it seems little bit smaller than 9 size. Seller should take care of such things. I have contacted the company, They are ready to replace free of cost but still I have not got the product yet.

Overall, good in looks. Good in this budget.
Febin Mar 30, 2019
Your foot will fall in love with your shoes
Verified Purchase
Stunningly beautiful pair of shoes. Looks sturdy and durable. Underwent extensive research for perfect pair of shoes to play badminton outdoors with in budget. Whenever you wear it be ready to receive compliments. If you are in search of these attributes in your purchase, your search ends here and no doubt it is a blind buy without any regrets under reasonable price. This pair worth it's price.The only part of shoe which needs slight improvement is sole part which can be more sturdy and durable.
Denny Mar 30, 2019
all purpose shoes.
Verified Purchase
I can use this shoes for walking, running, Treadmill and intense training purpose. am not sure as how long it may last, mostly from 6 months-1year if not used very rigorously. This is a Value for money buy at this price. seems to be good product at first sight. excited to see the performance on long run.
Timothy Mar 30, 2019
good material and great grip
Verified Purchase
he lace is of good material and holds the grip after tying one knot, not like other shoes which are heavy and laces comes off every 100mts while walking. The color combo is good and decent. But the finish is decent enough you can spot the threads popping out at the end of a stitch line finish which is ok.
Brandon Mar 30, 2019
Amazing shoes at this price
Verified Purchase
Its a comfortable and Light weight shoes worth for the price being paid that is $130 , you can expect this shoes to give you benefit as that of those are branded ones and also comes with a bit hefty price and built for the purpose kind. this shoes will do the job for what specific task you wanna use it for like jogging, treadmill, even sports.
Noah Mar 30, 2019
Wonderful product
Verified Purchase
*Come up with in the delivery time.
1.Size is perfectly fitted as orderd.
2.Light weight and good for running jogging & Walking and gym etc.
3.worth for every single penny
4. A unique design and colour which grabs attention.Very wonderful shoes and light weight, loved it to the core. Thank you
Bryson Mar 29, 2019
Using since 2 months, feedback
Verified Purchase
The sole provides excellent amount of grip. They're also made of good material, and even after 2 months of heavy usage, they haven't faded or lost their grip.

The length of shoe lace provided is sufficient. I have shoes, including premium shoes, which don't have a proper length of lace and it's very irritating. I'm happy that this has a proper length.

The stitching used is excellent. They're stitched in prime places where required.
Asher Mar 29, 2019
Review after 8 months of heavy usage!
Verified Purchase
This has been one of the best "Low Priced High Quality" products I've purchased.

Pros:

1. The styling is exceptional. It's designed so aggressively, and the color combination is so appealing.
2. The materials used are EXTREMELY COMFORTABLE! I wear this primarily for casual walking/jogging, which is what it's meant for. It has sufficient amount of padding to keep your feet comfortable even for long walks & casual runs.
Jeremiah Mar 29, 2019
loved the product
Verified Purchase
I absolutely love the design of the shoes, the packaging and it's delivery. It's probably the best under $ 130. Considering its price, there's nothing better you can ask for. Very good quality at this price. Infact I am amazed to get the product at this price, really very good quality, durability, fitting very good.

Robert Mar 29, 2019
height increasing shoes
Verified Purchase
Good pair of height increasing shoes at this price point. It has increased my height to 3 inches from my original height. Feel more confident.After using for 6 months, Even now the bottom sole is good. Over all, I am satisfied with this purchase and recommend the same.
Aaron Mar 29, 2019
Good fit, timely delivery
Verified Purchase
Nice fresh look, great bargain, good soles, neatly packed. Got at very good price.I bought it for my Dad. He walks a lot. He really loved the shoes as it its fitting perfectly. Looks descent. Easy to clean. Good Grip. No stinking socks. No bent ankle. Go for it.
Tayler Mar 29, 2019
Just Ok product
Verified Purchase
looks like high on MRP ..light weight .....Shoe quite comfortable in fitting, but got torn near last finger....just ok product...
not as expected. Need to improve on quality and accordingly may be priced.
Can buy this shoes as just ok, if u have better option can try other product of same brand.
Erka Mar 29, 2019
Light weight and comfortable
Verified Purchase
The shoes fit perfectly. No problems with sizing. Absolutely light weight. My husband loves them. He says they are quiet comfortable. Of course they are manufactured in China to cut cost it would be to best to but these on sale when they are priced around $130
Jerry Mar 29, 2019
It's unique design and texture is attractive.
Verified Purchase
Shoes are so soft and light weight for my feet with amazing color combination. I feel fly while I walk.I liked very much. its comfortable.. though love the color..
looks really nice..gives a cool look, love its high raising from heel.
looking for the other variants too.. wanna try for sure.


Dennis Mar 29, 2019
increase height, love to own
Verified Purchase
I was expecting it to be just a normal shoe but after it was delivered and I spent a day with it, I found it really good at this price. It looks elegant too. It's very comfortable. Loved it. Increased my height by 2 inch more than earlier. really love to own this shoe
Jack Mar 29, 2019
Every penny is worth
Verified Purchase
At this price point I would say this shoes is worth every penny. I don't see any point paying $500 for a very basic shoes from other brands. Go for it and you would be happy.Superb quality, gifted to hubby.. he is happy wearing it, very much comfortable and colour design is same as shown in the picture with anti slip soul.
Jack Mar 29, 2019
good comfort
Verified Purchase
I travel to office by train and then metro and back daily. Its a very hectic job to keep running from one stn to other and my legs used to hurt with heals or wedges. I was guided to wear a pair of good sports shoes and so i ordered this shoes which was on budget. This shoes have a good gripping sole which makes me run comfortably without feeling slippery. Also its comfortable soft insole keeps the ankle protected from pain. Beat shoes at a good price. I just loved them.
Alexander Mar 29, 2019
Great quality shoes at this price
Verified Purchase
Great quality shoes at this price (I bought it for $130) and will easily last for 6-8 for a moderate to active person. Soft sole but not way too soft that you feel the ground which is good thing. Colour is good and matches what is shown in the pictures.

Pros
Great quality and looks good
Effective price
Great for walking and medium intensity workouts
Easy to clean
Breathable material so it doesn't smell (unless your socks smell)
Good fit
Patric Mar 29, 2019
lovley pair
Verified Purchase
I wanted pair of good shoes for daily use and that too not much costlier. Then a friend told me he buy this pair of shoes recently which is budget friendly. cool price but buying shoes online was making me questioned about the fitting & quality option. Still I bought it and for my surprise as usual the shoes are fantastically Cool and comfortable. I just loved it
Gregory Mar 29, 2019
Good for casual Running
Verified Purchase
In simple words, its just awesome. For the price, it's so durable and nice to wear everyday. It's been year and I almost use it everyday for the gym as well as daily use mostly. No wear and tear so far. Everything worked perfectly.....It's really worth to buy. I am checking to buy one more similar shoes since I already used ..
Light weight.
Padding is good.
Good finishing.
But good for daily rough use.
Even sustains little rainfall.
Flexible.
Overall Very good investment for daily rough use.

Samuel Mar 29, 2019
Comfortable for daily usage..
Verified Purchase
Hello Everyone!
I will straight away get into my review.

// What I Like Most? //
1) Design looks good and eye catchy.
2) Colour is brighter and dark.
3) Sole is bit harder but inner cushion is very nice and gives me good comfort.
4) Stitches done well.
5) Lace quality is also nice.

Benjamin Mar 29, 2019
Not suited for long running
Verified Purchase
Price is towards higher side. if you are a serious runner, than this shoes may not suits you. you can only walk and run upto certain distance. if u do more running, the comfort of shoes goes off. So its recommended only for normal work or casuals not for long distance running
Frank Mar 29, 2019
would not recommend
Verified Purchase
After using it for a day, I found that the left sole isn't properly supported, the shoe inner padding is tilted o one side resulting in leg pain.
To top it all after the first 5 km run, it started giving complicationsf your even slightly serious about your run / walk, avoid this shoe
On the other hand if you want to wear it to the mall or just outside, go for it - it's cheap and looks ok.
But for this price you can get something better surely
Brandon Mar 29, 2019
Good , comfortable and pocket friendly shoes
Verified Purchase
Good for running as it is light in weight ..fits perfectly ..nice colour and design. however the size is little issue with me so i order a replacement. The company is agree to replace free of cost. Thank you for the great service. One star less for the same issue.
Scott Mar 29, 2019
ultimate shoes
Verified Purchase
i write this behalf of my brother. This shoes are very stylish and light weight. For running purpose this shoes are very good and for any other purpose like function. college and for sports its is very helpful. The size is good and my brother like the most is colour.
Oliver Mar 29, 2019
Comfortable and stylish
Verified Purchase
Fitting was awesome ,i guess it made for me only,,, stylish look and have classy style.under this range it meets up with my expectations. The shoe padding is great, which is really astonishing in this price bracket. It's perfect for daily use, and it's really reasonable. Highly recommended for people of all age.
Justine Mar 29, 2019
Good quality of shoe and Excellent service.
Verified Purchase
I got the order on time. Good quality of shoes and size is also perfect. Shoe's color is red which is good I love the color. Shoes are comfortable, Stylish & Trendy. Packaging is also good. Overall nice product to purchase and service provided is excellent. And all the details about the product as mentioned by the seller is true.
Larry Mar 29, 2019
Good Brand
Verified Purchase
This shoes are comfortable,soft,light weight and also fancy.Best suited for walking & running.these are good quality & size is perfect.After wearing i feel so comfortable. I have ordered from this brand before also and the product of this brand are really good at cheap prices with great color. Fits well and long lasting.
Stephen Mar 29, 2019
Light weight and comfortable
Verified Purchase
gifted these shoes to my father and he got so happy, the shoes are light and best suited for walking and running. They are very comfortable as he said and he wore them everyday for his walk. He really liked them. Recommended for people for old age too because of fitting and comfort.

Eric Mar 29, 2019
very comfortable for workout and running
Verified Purchase
these shoes looks so fancy e, it gives a cool look and i use this pair in workout and running. completely comfortable and very light weight. sprinter can also use. The shoes came in nice packaging. I tried them and they fit very well in the feet. The color is same and the design of the shoe is same as claimed by the seller. Happy with shoe quality at this price range. Comfortable and good to go with it
Asher Mar 29, 2019
Elevator shoes
Verified Purchase
These are elevator shoes and are extremely comfortable. You feel as if you have stepped on sponge. I really loved them. The colour is also nice. And i know these are men shoes but i have started wearing them. my height looks 3 inch more than what i actually look. Amazing for the price
Gary Mar 29, 2019
Good product in budget
Verified Purchase
The shoes are really good , meet my expectations , the quality of material is very fine and its durable also

It looks like a premium one as the quality denotes the premiumness.

These shoes are very comfortable for running and for daily use also , and it fits my budget also. wow
Jacob Mar 29, 2019
Worth to buy
Verified Purchase
Really loved the product. Bought this one for my cousin. Fits really well. He loved it too. Exactly like the picture. Comfortable, soft and light weighted. The color is also matching.
Sole seems quite hard and flexible too. Made up of quality material. looks very sturdy.
It totally worth it's price.
Ryan Mar 29, 2019
Elevator shoes
Verified Purchase
This product at this cost you get more then expected as material wise to design finishing all this are well and also fits perfectly. It increases your height upto 3-4 inches, without making u discomfort. highly recommended for people who wants to look tall. a must have for everyone. Thank you
Ivan A. Sep 28, 2018
Wonderful shoes and I finally found my size thank you!
Verified Purchase
These shoes are so comfortable and they look great they fit well and I received them quickly.
Thank so much and I will be purchasing another pair soon!
Angelo G. Sep 27, 2018
nice elevator sneaker
Verified Purchase
My size is 10, so I ordered in size 9 and fits ok.
Shon Sep 16, 2018
I'm very pleased
Verified Purchase
Great fit and exactly what I wanted so many colors to choose from.
Rafael Jun 11, 2018
Just what I want to buy
Verified Purchase
I need pair of sport shoes that comfortable and soft, these shoes not only add height, also comfortable just what I asked for. Like it.


E.Leal Jun 8, 2018
Great
Verified Purchase
They are great! I do feel taller I will buy some more later for sure! I give it a 5 star because I don't find anything wrong with the shoes, they look as normal as a regular shoe and they fit just perfectly.

Jonathan Jun 4, 2018
nice quality
Verified Purchase
Great looking, nice quality for the money.

Sean Apr 2, 2018
Look great, lightweight and comfortable for extended periods of time
Verified Purchase
Amazing shoes... best shoes ever, fits perfect... goodbye Nike... nothing better than this elevator sneaker.
Eugene Mar 5, 2018
Not the best shoes not the worst
Verified Purchase
Color scheme was not what I was expecting. Reasonably comfortable to wear.
Godfery Mar 3, 2018
The quality is really good
Verified Purchase
Good quality.
Karl C. Feb 28, 2018
Great shoes
Verified Purchase
So far I am loving these shoes. They are very light and comfortable. I use them daily, wearing these height increasing shoes feel comfortable as usual shoes.
Elroy Feb 15, 2018
Great shoes
Verified Purchase
Great shoes. Great fit. Classic style. Can't go wrong. Look really good with jeans.



Michael S. Dec 15, 2017
Classic Chamaripa style
Verified Purchase
as title states, looks great, fits great, love it!
Martin Dec 14, 2017
Love these shoes!
Verified Purchase
These shoes are so cool looking. I love wearing them. They are comfortable and enjoyable to wear. Love CHAMARIPA shoes.
Skittles Nov 21, 2017
Every Man Needs a Pair of Chamaripa Classic Black Sneakers
Verified Purchase
This is not my first pair of classic Chamaripa Black Sneakers, you can wear them in a casual or formal engagement.